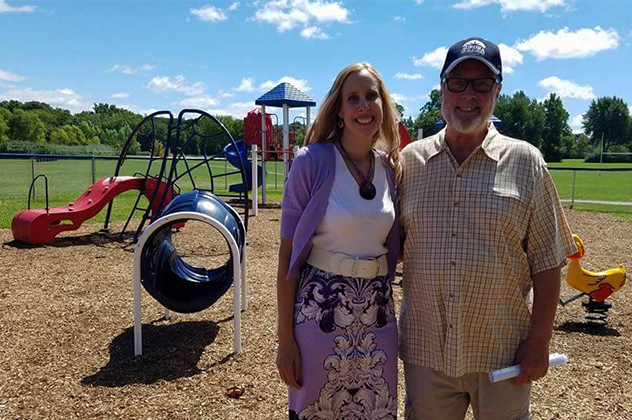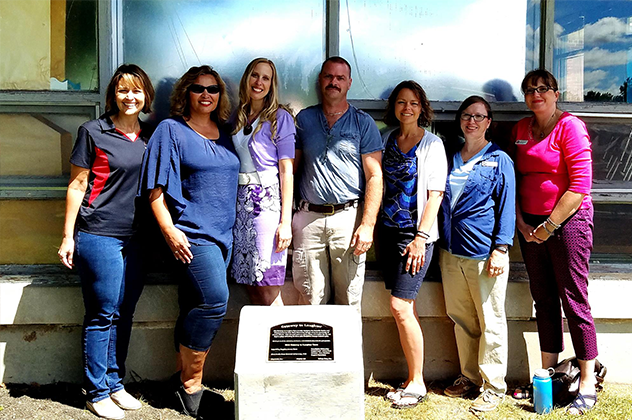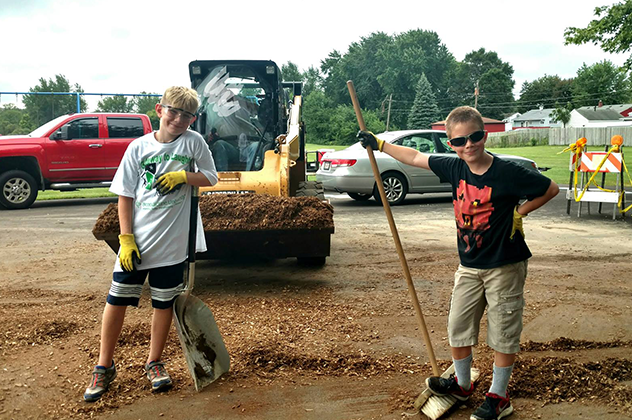 Aimee Ford
If inspirational quotes and motivational speakers are to be believed, one person can change the world. The truth is, people who are trying to change the world are more likely to be remarkably successful when they have the help of others.

Aimee Ford is filled with ambition. She was searching for somewhere in her Illinois community to volunteer the leadership skills she'd learned as an adult MBA student at Benedictine University. She wanted to take on a significant community service project, and not just because a scholarship required it, but also for personal reasons.

A few years earlier, Aimee had been diagnosed with lupus, a disease that causes a person's immune system to attack their body's tissues and organs. "My horrific medical journey made me redefine my priorities," Aimee said. "I became more motivated than ever to give back to my university and community. Life is short, and you've got to jump in with both feet."

"From my leadership training and years of business experience, I knew a partner could help me overcome hurdles during the project. I talked to many organizations about partnering with me. Most thought I was crazy. I was willing to take a leap of faith, but they weren't confident they would get results from just one person."

When Aimee reached out to Rebuilding Together Aurora, her timing could not have been better. Rebuilding Together Aurora had been on the hunt for a community project in East Aurora School District 131, and thought they'd found one at John Gates Elementary School.

The school is a hub for students with disabilities, with five classes dedicated to their achievement. Most families are low-income and the district itself is acutely underfunded. There's no money for school buses. The district's teachers are some of the lowest paid in Illinois. One hundred percent of students receive free breakfast and lunch. School facilities are overcrowded and old.

Heather Binder, executive director of Rebuilding Together Aurora, described the first meeting with John Gates Elementary School. "They needed a lot of help. Yet when we sat down with school leaders, instead of a wish list of repairs, they talked about what people in their community needed the school to be. It became clear that the school is an essential community resource."

Rebuilding Together Aurora knew it should do something more meaningful than painting a few classrooms, and saw an obvious candidate in the school's playground. Calling it a playground was overgenerous. Little more than a square of worn-out pavement with a few battered pieces of equipment, it wasn't much fun for any of the students. And because the playground wasn't designed for children with learning or physical disabilities, it unfairly isolated them from learning from play and making friends.

Although Aimee was game to partner on the playground project, Heather confessed that Rebuilding Together Aurora had doubts. "We'd never rebuilt a playground. We'd never let a volunteer lead a project. We had a tiny staff. But a better playground was what the school and the community needed most, so we decided to let Aimee run with it. She exceeded all of our expectations."

Initially, Aimee planned to raise $2,000 to buy and install two pieces of playground equipment, and finish in eight weeks. The more Aimee got to know the children and families who depended on the school, the more she knew she had to go beyond a fixer-upper project. With the help of Rebuilding Together Aurora, Aimee ultimately led a 10 month effort that raised more than $20,000, and negotiated donations of and discounts worth tens of thousands more. It became the largest community project by a Benedictine University scholarship student.

Today, Aurora's East Side has been given more than a new school playground for students of all ages and abilities. The community now has a safe and inclusive place that every child and family can enjoy. After school and on weekends, the playground is more like a community park, filled with families having fun.

"At Rebuilding Together Aurora, we work to revitalize communities. Yet, thanks to this volunteer-led project—and thanks to Aimee—we revitalized our organization. We've forged new relationships and learned so much about the greater needs of our community. It made us rethink what it means to be a community development organization."

The project has also had a transformative effect on Aimee. "Even though the project is over, people in the community continue to get in touch with me about how they want to help make the playground more accessible and more fun. I hear from people who tell me that I've inspired them to lead. The ripple effect is neverending. It just keeps going and going."
Rebuilding Together is really about hard-working, compassionate people helping other people. Volunteer with your local Rebuilding Together affiliate and become a partner in your community.
Want to read more about Rebuilding Together?
Sign up to receive our email updates!