Remembering 9/11: Repairing the Pentagon
September 10, 2021
It's hard to believe 20 years have passed since the tragic terrorist attacks on our country on September 11, 2001. Tomorrow we will honor the 2,997 people who lost their lives on that fateful day. The country mourned together after the horrific events, and people from all over felt a call to help. At the time my mother, Patty Johnson, was president and CEO of Rebuilding Together. When an opportunity for Rebuilding Together to help repair the Pentagon was presented to her, she accepted without hesitation.
Northern Virginia Roofing Company's co-owner at the time, Kimberly Francis, called my mom to see if there was some way roofers could volunteer their services to repair and replace the 40,000 square feet of slate and underdecking at the Pentagon, which was burned or damaged by the attack. Frances told mom that she and her husband, John, had been discussing what they may be able to do in response to the terrorist attacks. In a subsequent conversation, Francis stated "[John and I] looked at each other and said, 'We're in the roofing business, and what we ought to do is give the country one of its roofs back.'" Their idea was to replace the Pentagon's roof system as a gift from the industry.
After her call with Francis, my mom reached out to National Roofing Contractors Association (NRCA)'s executive vice president at the time, Bill Good. After her conversation with Good, a series of events was set in motion. One week later a meeting was scheduled with Pentagon officials where a team of NRCA members outlined, in principle, the industry's offer. Ultimately, after a number of telephone conversations and two more meetings, Pentagon officials agreed to a plan to replace the portion of the Pentagon's roof system that was damaged by fire.
With donations from corporate partners—such as Wagner Roofing--as well as many individual donations of materials, labor and cash, the NRCA's $500,000 rehab included the replacement of about 40,000 square feet of slate that had been damaged by jet fuel fire. Good put it best when he said, "above all, this is the right thing to do."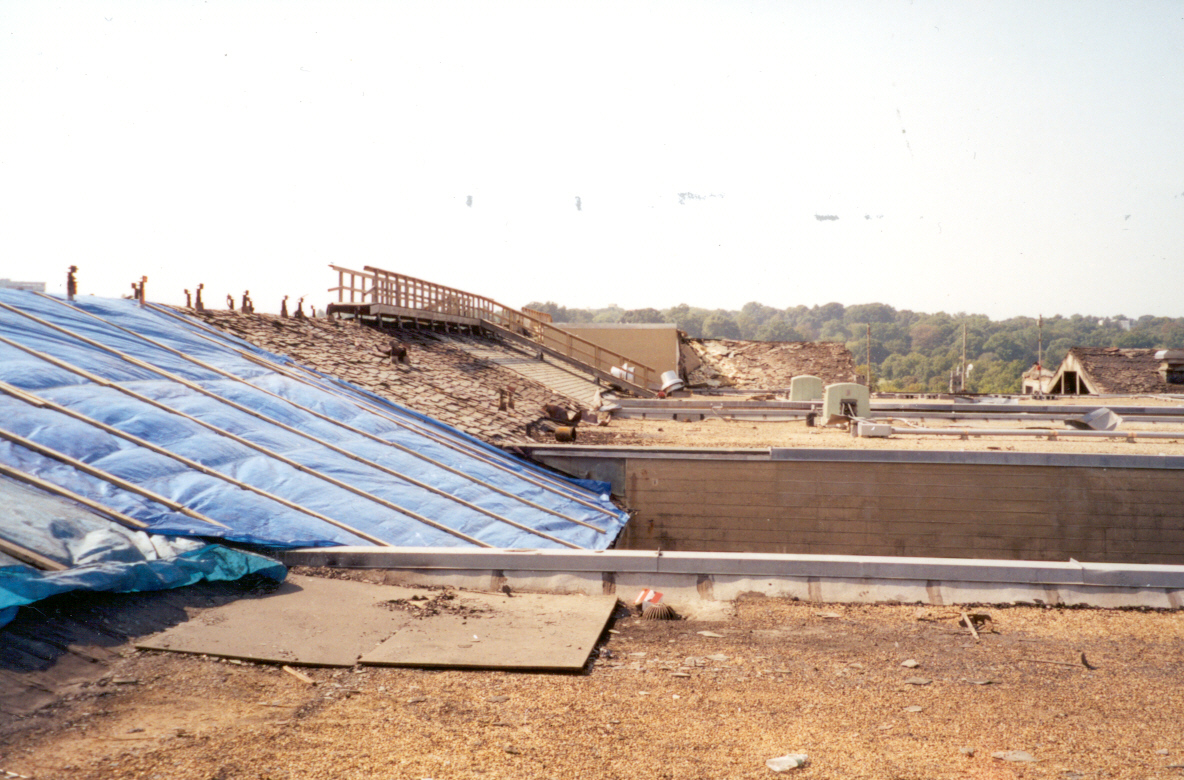 "We can't reroof the Pentagon ourselves," said my mom. "But we are so proud of those who are working hard to do so. Rebuilding Together's spirit of volunteerism is extending beyond the low-income houses and communities we've worked on for more than 15 years to this incredible structure, the symbol of our American freedom."
I am beyond proud that my mother and Rebuilding Together had a role in repairing one of the most important buildings in our nation after 9/11. My mom's spirit of volunteerism lives on today as Rebuilding Together affiliates across the country host different projects to improve their communities on the anniversary of 9/11.