How We're Working With Moen To Help Our Older Neighbors Age In Place
January 12, 2021
In the midst of a pandemic that disproportionately affects older adults, it is even more important for them to safely be able to age at home.
One of the most successful and impactful ways for Rebuilding Together to transform the lives of our older neighbors is through corporate partnerships. Rebuilding Together Atlanta and Rebuilding Together Rogue Valley recently partnered with Moen who provided over 300 different home safety modification products. Grab bars, handheld shower heads and tub/shower seats were installed to support homeowners in need who would prefer to age in place or cannot afford to move into assisted living. Many of the recipients were older adults with low-income living in sub-standard housing. Through this partnership, several homeowners were able to receive essential repairs which assisted in their daily activities and made life at home safer and more enjoyable.
A homeowner affected by multiple sclerosis for over 20 years shared that showering was a laborious task that often left her tired and needing a nap. After the installation of two Moen grab bars, a shower wand and shower chair she experienced ease in showering and performing daily tasks. David Doi, Executive Director of Rebuilding Together Rogue Valley, said the homeowner shared "that she never realized how stressful it was taking showers for fear of falling. Now she doesn't have that fear and anxiety."
At Rebuilding Together Atlanta, one homeowner stood out to executive director Mike Orum as well.
Prior to services, Ms. Crawford (pictured below) had fallen in her tub and rated the safety in her home as a 3 out of 5 and the overall satisfaction with her home as a 3.5 out of 5.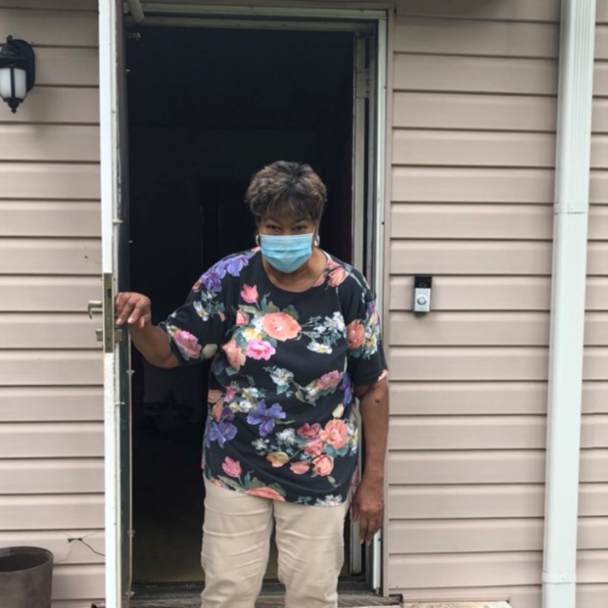 Through Rebuilding Together Atlanta's, Safe at Home Express program Ms. Crawford met with an occupational therapist for an assessment. In her bathroom, Ms. Crawford had two grab bars, a raised toilet seat, bathmat and a detachable shower head installed. A month after the installation she reported not having additional falls while bathing. She rates the safety and overall satisfaction of her home as 5 out of 5 and reports that she is more likely to age in place thanks to the modifications made by Rebuilding Together Atlanta with the Moen products.
"Moen is proud that our products are able to support seniors and their ability to more safely enjoy their homes," Aimie Schramm, Director, Employee Communications at Moen told us. "We sincerely appreciate Rebuilding Together's hard work and commitment to improving the lives of seniors in our communities."
In 2020, Rebuilding Together conducted an impact measurement study to try and fully understand the impact of our work on the health, safety, well-being and financial status of the residents and communities we serve. Through interviews and surveys, we found that following repairs from Rebuilding Together:
Seven in 10 neighbors report low or no chance of falling.

Three in five neighbors found bathing easier than before, increasing the potential for improved hygiene.

Nine in 10 neighbors plan to age in place.
Learn more about how Rebuilding Together is making an impact on the lives of our neighbors.