Interview: Kathleen Wu, [Re]Builder and Resilient
March 12, 2021
During Women's History Month, we're highlighting some of the influential female leaders in our organization. Last week, our Senior Vice President of Risk Management, Susan Hawfield, wrote about Rebuilding Together's founder (Patty Johnson) and current president and CEO (Caroline Blakely). Both women have had enormous roles in making Rebuilding Together what it is today. We recently spoke with one of our national board of directors members, Kathleen Wu, to talk about her career and time with Rebuilding Together.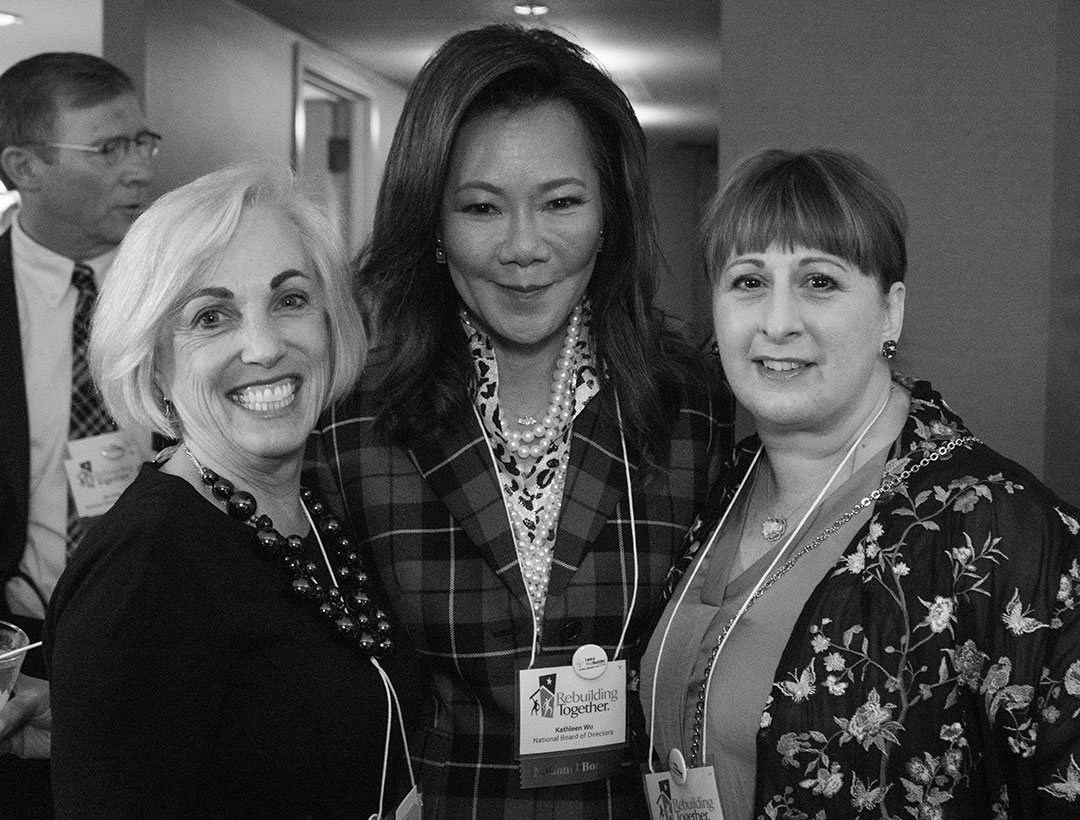 Tell us about your professional position, national board role and current location/hometown.
I'm a real estate finance attorney in the Dallas office of the international law firm Hunton Andrews Kurth. I feel privileged to have the opportunity to work with a variety of clients across the country in different industries who are directly or indirectly involved in the construction, development, sale, financing, servicing, leasing or management of the full spectrum of real estate products and other related assets. I proudly serve on the national board of directors of Rebuilding Together and chair its Development Committee.
What are some of the obstacles you've faced to get where you are today?
The main obstacle I encountered was an economic crisis that hit just as I graduated from law school. I moved to Texas just as oil prices collapsed, so the life I envisioned where I was making deals all day quickly transitioned to helping our clients restructure their debt. That experience taught me to always have a Plan B, whether it's the big picture (such as my career), an individual client matter or in my personal life (I literally had two wedding dresses when I got married).
What tools or resources helped you face the challenges of working in a male-dominated field?
The most all-purpose tool any woman can have in this world is a thick skin, and mine has come in handy a lot. I've also found it advantageous that some people, at least initially, have assumed that I would be quiet or submissive. That trick only works the first time, though, because I quickly disabuse people of that notion. But I've used that to my advantage a few times. Fortunately, there are more women in the business now than when I started. So, it's becoming a more diverse and welcoming industry overall.
Can you give us an example of how you provide others with tools or resources to follow in your footsteps or to empower them to pursue goals?
Within the legal profession, I've been a frequent writer, speaker and advocate on issues regarding diversity, inclusion and equity, and I've been a leader in our firm's initiatives aimed at improving our performance in those areas. And I try to focus my volunteer work in those areas that help others get a leg up, such as the United States Tennis Association Foundation (which provides tennis and education programs to under-resourced communities); Texas Women's University, which is the largest public university primarily for women in the country; and, of course, Rebuilding Together.
What keeps you motivated?
For the last year, it's been my Peloton! But, seriously, other than recent events (starting with an October 2019 tornado that destroyed my neighborhood, followed by the pandemic, and then, most recently the #TexasBlackout), I have to say that motivation hasn't been hard to come by. I have a job I love, I'm involved with organizations that feed my soul and my family keeps it all pulled together. I've always been a fairly content person, but I went through a difficult time a few years ago, and I made a conscious decision that I wasn't going to let it beat me. My mantra became #OnlyJoy, and it's been my North Star since then. Also, seriously…I do love my Peloton.
What sparked your interest in Rebuilding Together and our mission?
I spent the first several years of my life in foster care, so I remember being adopted. And I remember the fear of not being adopted. But for the decision my parents made to make me part of their family, I might have spent my life in the foster care system, which would have likely put me in a very different place than I am today. So, I know how much luck and chance can determine your place in this world, and I'm eternally grateful that I ended up in a warm, safe and loving home. Not everybody is so lucky. So, whenever I have a chance to help those who didn't have the same good luck I've had, I take it.
How do you think the work of Rebuilding Together plays into creating healthy, equitable communities?
We are only as healthy as our environment. Every home we can help repair means an older adult who can continue living at home safely, a happier community, higher property values and a host of other benefits, both to the homeowners and their neighbors. Disrepair is insidious. Even a single blighted home can affect the well-being of a whole community. So, our work can improve the physical, mental and financial health of entire neighborhoods and, even, cities.
Why are you a [Re]Builder?
I still remember what it's like to not have a place to call home, so I want to do everything I can to support the mission of Rebuilding Together and keep people in safe, well-maintained homes and communities. There's no reason anybody should have to leave a property that — with a little bit of expertise and elbow grease, and a small amount of funding — could be made good as new.
Learn how you can get involved in making a difference in your community. Become a [Re]Builder today!